Via an email that was sent out early yesterday, S60.com included Call Filter by m-internet.com with a free license. I was very stoked about this application, because I've been on the look out for solutions that include whitelists as well as blacklists for quite some time. The closest thing on S60 v3.1 that tries to act as a call filter is the call restriction buried deep in the settings menu, and rejects calls in bulk, not by type of caller or a specific individual. So back to the Call Filter application, setting up the application is a little bit confusing at the beginning, but let me walk you through the different options:
First off in the main menu there are 3 choices. First is the choice to make the app Auto run when the phone boots to life. Pretty straight forward. The third option is also pretty simple, allowing you to block people who have blocked their number or when caller ID can't resolve the number (like international calls). However all of the action takes place in the second choice, offering you a variety of options to filter through calls based on your preference.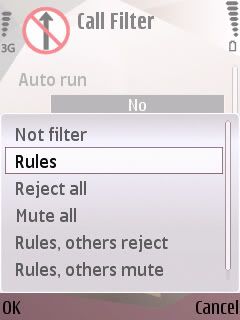 First choice is not filter, which doesn't do anything with calls. (This is a good choice if you just want to block hidden caller IDs)
Second choice is Rules, which activates the rules you have set up (either whitelists and/or blacklists) and I'll go over how to setup the Rules.
Third is Reject all, and it exactly does that. When a call is rejected, it looks like the phone picks up and hangs up immediately, so you don't get a missed call notice, however it will leave a log in the received calls section of the Log.
Fourth is Mute all, and what it does is prevents the phone from vibrating or ringing, and automatically brings up the option in S60 v3 to reject a call with a text. You can close the text and still pick up the call.
Fifth and sixth are combinations of 2-4.
Rules, Reject others can be used for whitelist and block who isn't on the whitelist. I'll explain how below.
To set up the rules, you choose options and first go to Manage lIsts. Here is where you can create lists either for whitelist or a blacklist, and within them you can specify the numbers. One great thing is that it integrates the default phonebook, so you can pull up your contacts easily.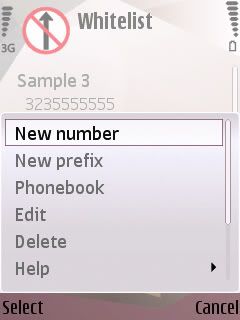 Once you have named and created your lists, you return to the main menu and choose options and pick Manage Rules. You can create the rules you want here, for example Allowed. Then you bring the list(s) you want under this rule, you decide if this list under the rule should be rejected(blacklist), or not filter (whitelist), and finally you activate this rule.
So for example, if I want to block the people in my blacklist and also block people with hidden caller ID, in the main menu I'd select to reject for hidden callers, and I'd create a list called blacklist in Manage lists and put the phone numbers there. Then I'd come back to the main menu, from options select Manage rules, create a rule called Blocked. From there incorporate the list called blacklist. Then I'd choose reject from actions, and activate the rule.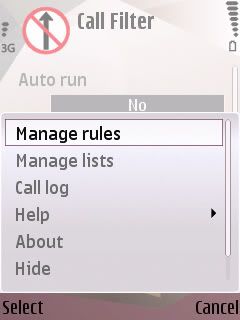 Another Scenario would be to only accept calls from a whitelist. What I'd do is still choose to reject calls from hidden numbers, then in Manage list I'd create a list called whitelist, and put the contact numbers there with the help of the phonebook. Then once I'm done with that I come back to the main menu, choose Manage rules, create a rule called Allowed, incorporate the whitelist, and choose not filter in action. Then activate the rule. In the main menu I can come and in the second option (All Calls), pick rules, others reject.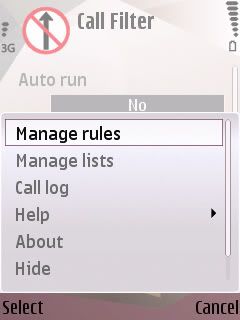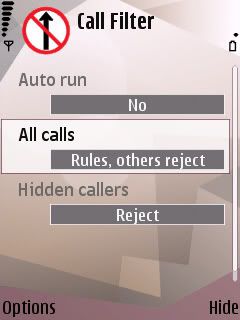 This application has great functionality, but the UI is a little bit confusing initially. Honestly I had to use the help that is located in the options. One thing that I would add to the application if I were the developer would be to block numbers based on area codes. (especially 800 and 866 for telemarketers). This application is now part of my must have installs. Do you guys think that this functionality should be on the priority to be on the firmware, or are there more important functionalities that need to be taken care of first?