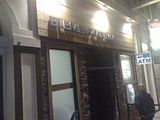 I got back from San Francisco yesterday, The venue at Element Lounge was a nice compact place, and around 30-35 people were present. The atmosphere was dark for the most part, only slightly lightened at the phone stand with background music. Surprising to me, the marketing team brought along the non-Nokia S60 phones to the event, in order to show that S60 is beyond a specific manufacturer. They also had the demo video of the S60 Touch interface running in a "private" room. Dan Shugrue and Phil Schwarzmann from the S60 blogs, started off the night and greeted people who showed up. I ran into Dan for the 2nd time in the last month, and met Phil as well. I didn't meet anybody from HowardForums there, unlike the LA mansion event where they were rocking the house.
All and all people were having a great time, discussing the latest issues with the developers who attended the event all the way from Finland. The interesting point is that all people weren't necessary involved with S60, as a few development people from IBM, Fujitsu, and etc showed up and got to see what capabilities the platform has to offer. After the lounge Nokia's MOSH site invited people to an after party, and after much waiting, we got in. It was a great time there as well, though not focused on S60 anymore. After that also I ran into Bill Plummer and others who I met in LA a month earlier.
The marketing team seemed to be pleased with the progress of how the Ambassador's program in California is working out, and they were encouraging if anybody there was interested to join in. Your's truly is also acting as an ambassador, so if you're in California head here and sign up. An amazing experience it was and the marketing team of S60 is to thank for the event they put together.