My first phone was a Sony Ericsson T226, and until a while ago I went through several SE until I stopped at the W810i. There weren't anything revolutionary going between each generation of SE at that time. Since the W810i I hadn't been playing around with the SE feature (read dumb) phones until very recently I got the K850. I've made a few initial observations and have attached some pictures accompanying them.
First:
One of the major changes to the phone is the input method regarding the softkeys and the navigation D-pad. The softkeys have been removed and instead there are three touch-sensitive areas on the bottom of the screen that essentailly act as softkeys. The middle choice is usually the obvious choice one person would select in that particular menu (OK or Enter button). I found that about 20% of the time the softkeys don't respond to pressing them, however I found that overtime one would learn how to press them correctly and have better results with the responsiveness. The Dpad is ok to use for short periods of time.
Second:
It almost has the same thickness as the N95-3, however for some odd reason it feels thicker in my hands. I don't have a problem with meaty phones, but this is a heads up for the others who are.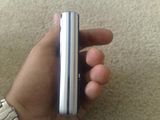 Third:
If you remember my previous reviews, you recall my fingers are on the larger side. For the type of fingers that I have, using a K850 would become painful. The keypad has a good resolution between the buttons, feeling completely distinct from each other, but pressing them at times is more difficult than what I'm used to. The trickiest buttons to press are 1, 4, 5 and I'd guess a left-hander would have problems pressing 3, 5, and 6. Another annoying button is the C button, which needs to be used often, but it's size and position is poorly misjudged, in a big-finger-guy's perspective
Fourth:
The last thing I want to go over in this preview is the camera. It's one of the top of line cell phone cameras (5MP) and has both LED and Xenon flash. I've tried to take some pictures in complete darkness, as well as in lit conditions. For some reason, the act of taking a picture and Xenon flashing are sometimes not in sync. In daylight, the pictures some times come out darker than what it's supposed to be. I might have something to do with this myself, maybe I'm not doing something right, but even if it is with the phone, it's something that can be fixed with a Firmware upgrade
Well now my preview can seem negative at the first glance, but when I get a phone these are what stick to me. A really good phone is one with minimal negative aspects about it. To list what I like about the phone so far is the design, which gives it a somewhat new look compared to the older Sony Ericssons. Another thing I like is Firmware Over The Air upgrading available for this phone, which eliminates the need for using a USB cable and the firmware upgrade software traditionally needed. Hopefully I can put up a review of this phone soon.